Here are some pics of the back yard.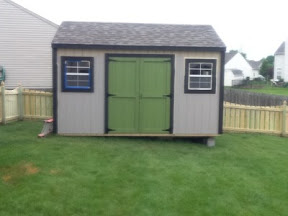 So there's still tape on the barn but this was taken about a week ago. The barn is now done!!! The whole outside is painted and we have added lateens and hooks with hanging baskets. I will get more pics and post them of the finished look. I officially HATE to paint!!! I did before this but really do now. I'm glad it's all done. The other half is going to paint the patio tomorrow.
Hope everyone is having a great week.
Marilyn